This technique was widespread in some areas in the middle of the 19th century for details of figures, animals, carriages and pyramids. For example, in the area of Annaberg between 1870 and 1930 pewter alloy was used for the completion of tools, legs, antlers, ears, etc., chiefly of figures and animals made from papier mache or dough, as an insertion.
Among pyramid makers there were also some to be found who surrounded their pyramids with little pewter fences of which only a few examples can be appreciated today in the Erzgebirge and Dresden folk art museums. Many techniques of handwork have been lost to industrially-made products. Only in small handwork businesses have such old techniques of handcraft survived until today or been rediscovered in the last few years.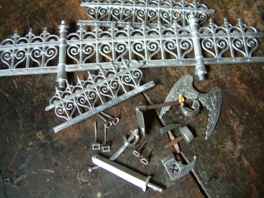 The special combination of wood and pewter formed the basis for a pyramid which was newly made in the year 1996 as a masterpiece in our workshop, following historical examples, and since then will be made by special order for our customers. A special value was attached to this pyramid which was detailed with the carefully worked pewter fence which was expected by well-heeled customers of this sort of single piece in the 19th century, but later abandoned because of cost factors.